The following post and accompanying graphics are based on data provided by our good friends at WhoSampled, which manages the largest repository of user-generated sample data on the web. This is the first in a series. For updates on new installments, follow us on @thirdbridge415  or on Facebook. Download a hi-res version here. Graphic design by Studio Wyse. Illustrations by LeeAndra Cianci.
For a week in February, after the release of his highly anticipated album The Life of Pablo, Kanye West was more popular than God, at least according to Google: Users searched for him more than Jesus or Allah. And Donald Trump? Kanye trounced him. For a while at least, the good people of the Internet were more concerned with West's various debts, feuds, sexual proclivities, and tweet storms than they were the next president of the United States.
This was partly due to the spectacle of his public persona, of course, but it was more than just that. Kanye has helped shaped the sound of the most popular genre in the world for the past two decades. He's been artistically relevant longer than nearly anyone in modern pop music history—20 years into his career, Bob Dylan was hawking Jesus to confused hippies—and he's repeatedly changed the sound of pop music.
But establishing through-lines for that aesthetic is difficult. West remains a mercurial and restless artist. But one thing has remained constant: the use of classic soul and R&B as his primary sonic palette. He has consistently sampled this music more than any other, even if how he's utilized this source material has changed drastically over the years.
His early tracks were painted in broad strokes and primary colors. Both emotionally and sonically, they provided an appealing echo of the celebratory sound and perceived innocence of classic soul. This was an interpretation that resonated with a very large audience, and it changed the course of hip-hop in the '00s.
But, over the years, West's take on sampling in general, and soul and R&B specifically, changed. His relationship to these genres grew more idiosyncratic, and the emotions that he channeled were darker and more nuanced. What began as second-hand nostalgia for early hip-hop's favorite source material transformed into a mere building block for a deeply personal, stylistically singular sound.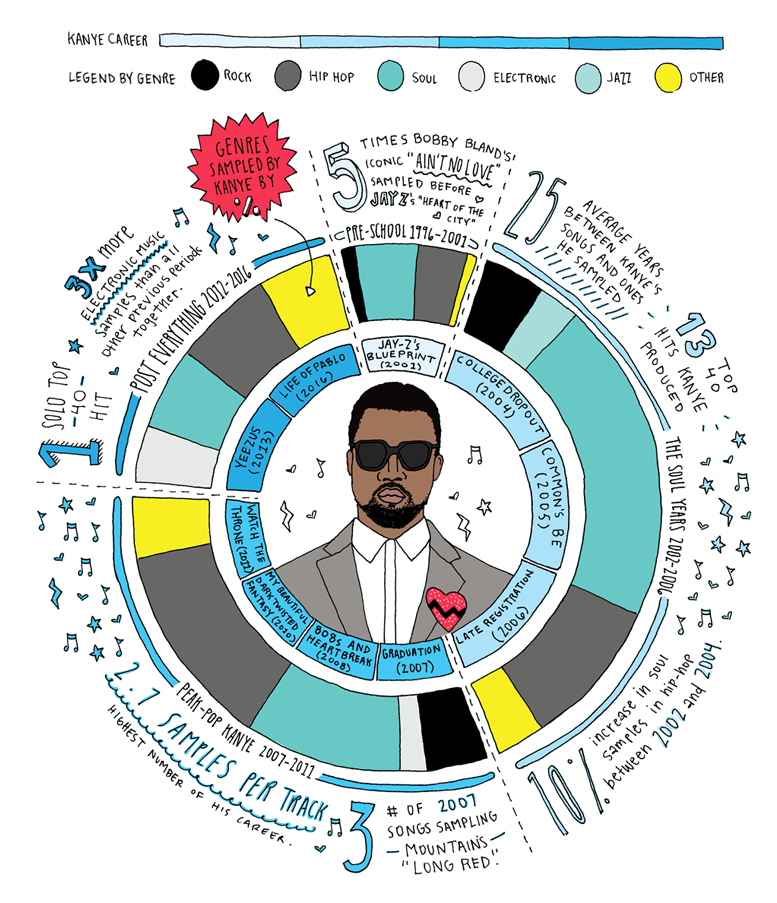 Harder Faster Stronger
Soul, funk, and R&B—referred to collectively here and in the WhoSampled data simply as soul music—have long been a staple of hip-hop sampling. In the early '90s, soul music accounted for over 50% of all hip-hop samples. Hip-hop producers used it five- to ten-times the amount as rock or even jazz. Songs such as Isaac Hayes' "Ike's Mood 1" (sampled 119 times) or Lyn Collins' "Think (About it)"  (1432 times!) were used over and over again, with producers pulling out a drum kick here, or a guitar lick there.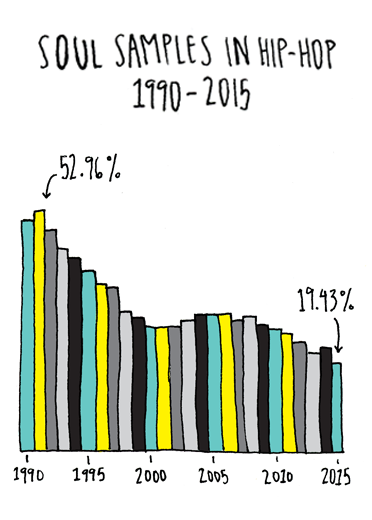 Partly this was done for utilitarian reasons. The beats were funky, perfect for the rhythms of hip-hop, and the music was spare, with enough space for producers to extract those usable parts. Another factor was that this was the music that many of these producers grew up on. In 1990, the average span between when a song was released and the release year of the sampled song was around 15 years. This makes sense, as an average hip-hop producer from that era, assuming they were in their mid- to late-20s at the time, would search for music from their childhood or early adolescence.
But, as the '90s progressed, hip-hop producers were increasingly sampling rock music. The percentage of samples of the genre between 1990 and 2000 rose from 5.3% to 9.4%, and would continue to rise in the next decade, peaking at 14.9% in 2009.  
As the music was shifting, so was the audience. Thanks to Eminem, and the widespread adoption of the internet, hip-hop was increasingly mainstream culture. According to the RIAA, hip-hop's market share nearly doubled from 1995 to 2005, from 6.7% of albums sold to over 13.3%. As the genre became more mainstream, its connection to the era of Isaac Hayes and James Brown changed as well. By the time Kanye rose to prominence as one of the primary architects of Jay Z's landmark 2001 album The Blueprint, soul music only comprised 27% of all samples, down 52% from a decade before. 
From 2002 to 2006, the commercial height of Kanye's first phase, 50% of his all samples came from classic soul or funk music, with the remaining percentages scattered across rock (11%), jazz (6%) and more contemporary hip-hop and R&B (24%). He was sampling classic soul, funk, and R&B icons such Curtis Mayfield ("Jesus Walks"), James Brown ("Otis," "No Church in the Wild" and "Clique"), Ray Charles ("Golddigger") and Bill Withers ("Roses"), among many others. West's first charting solo track, 2004's "Through the Wire," flipped Chaka Khan's "Through the Fire" with very little alteration.
But if Kanye didn't quite fit in with his contemporaries, he also wasn't a direct callback to the hip-hop producers of the '90s. For one thing, this wasn't necessarily a nostalgia for the music of his youth. After all, by the time Kanye came of age, soul icons such as the Delfonics and the Stylistics were either disbanded or well past their prime. For Kanye, between 2002 and 2006, the span between the release date of his songs and the songs he sampled was around 25 years. To put it another way, nearly half (46%) of the songs that Kanye sampled were released before 1978, the year he was born.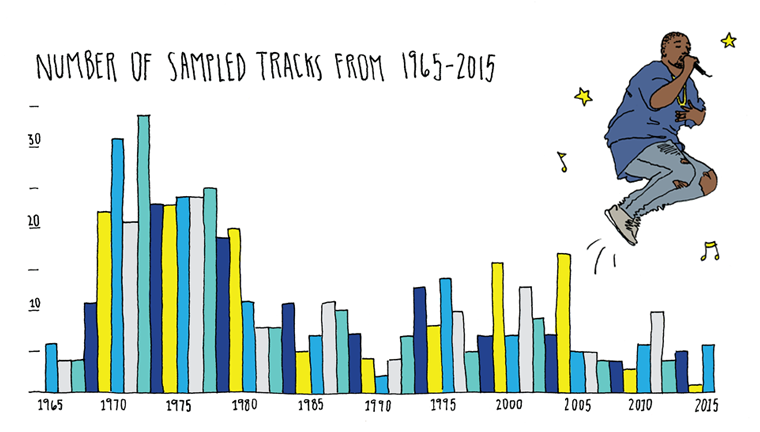 And aesthetically, it was also a different vibe. Whereas producers such as DJ Premier or Pete Rock were more focused on funk, excising the drum breaks from songs to forge a track's rhythm, Kanye was often more interested in the textures and vocal elements of soul, which engendered a more direct connection to both the music and the era he was sampling.
Listeners could be forgiven for thinking his was rose-tinted yearning for what he viewed as a simpler time. You can hear this in his sample of Nina's Simone's "Sinnerman" in Talib Kweli's 2002 hit "Get By," a quintessential early Kanye production. "Sinnerman" is an at-times dark, growling meditation on power (or lack thereof) and white entitlement, but it's recast here as a celebratory, aspirational and empowering anthem. Time and time again, this was West's M.O.
It served him well as a pop producer. The music was catchy and accessible, even if the source material was only vaguely familiar to his broad audience. It was a style that quickly caught on and was imitated.
As we established, by 2001 soul music as a sample source was on its way out. Between 1990 and 2000, soul music averaged an annual 6% decrease in usage. That may not sound like a lot, but, year after year, and for a decade, it meant that sampling of soul music was down almost 50% from it's high point in 1991. Had this trend persisted, you would've expected to see soul samples comprise about only 22% of all samples by 2006.
But in 2002, the year after The Blueprint was released, the trend began to reverse itself. Between 2002 and 2003, there was a 5% uptick in soul samples, with similar numbers posted between 2003 and 2004. By 2006, soul music had climbed back up to 31% of all samples, and it stayed in that range until the late '00s.
Strange Fruit
Kanye's landmark 2009 album, 808s and Heartbreaks, contained virtually no samples—a notable exception being a Nina Simone sample that provides the drum-break for "Bad News." Hip-hop seemed to notice the shift. In 2009, the year after he released 808s, the use of soul music in hip-hop declined by 8%, and it now accounts for less than 20% of all hip-hop samples.
After 808s, West did return to sampling, and to soul, but the way he used it had changed. His music was darker, thornier. He no longer seemed interested in channeling a cheery nostalgia, and the samples themselves were more fractured and obscure. On 2010's My Beautiful Dark Twisted Fantasy, soul music accounted for 45% of all sample sources, but its influence had been so fully integrated into his aesthetic that the actual samples were oftentimes indistinguishable. If you don't remember the Eddie Bo sample in "Lost in the World" or Lyn Collins' "Think (About It)" from "So Appalled," you're not alone. 
On MBDTF, and the even bleaker and less accessible Yeezus, West was no longer making soul-tinged hip-hop, he was making, well, Kanye music. And the formula was so complex and idiosyncratic that it wasn't easily reproducible. There was, for example, no immediate rush by hip-hop producers to begin placing Grecian choruses in the codas of their compositions.
I Want You Back
The Life of Pablo was initially billed as a return to more familiar, mainstream territory, and, in some ways, it was. It contained 29 samples, more than any single Kanye album. Electronic music managed to gobble up 17% of those. This may be due to West working more with outside producers such as DJ Dodger Stadium, but it's also reflective of the times. Electronic music now accounts for nearly 5% of all hip-hop samples, whereas in the early- to mid-'90s, it hovered at around 1%.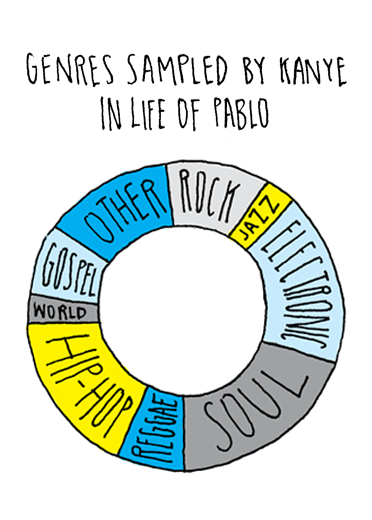 Kanye's samples on Pablo were also more obscure. In 2008, his samples were, on average, used in 40 other tracks. For The Life of Pablo, that number was down to around seven. He samples Isao Abe and Yoko Shimomura's theme music for Street Fighter II, twice, as well as Arthur Russell's dubby Zen Koan "Answer Me" for the hypnotic "30 Hours." 
Despite his broadening palette, soul music accounts for 20% of all the samples, a shrinking though still significant number. But it's a different vibe now. Despite being self-described as West's "gospel album," the music feels more haunted and scattered than holy or reverential. It's not an angry album, like Yeezus, but Kanye is alternately more boastful and more restless. At times, he seems less confident in his own sonic landscapes. The nostalgia and swagger of "All Falls Down" or "Golddigger" is long gone.
"Famous" is a great example of this. The song has been written about quite a bit for its now-infamous Taylor Swift line, but the heart of the track is the Nina Simone sample. Kanye's favorite person to sample is Kanye, but, aside from himself, he's sampled Simone more than nearly anyone (only James Brown, frequent collaborator Jay Z, and the Notorious B.I.G. have been sampled more). In a way, Nina is his safe space. And it's easy to see the parallels between Simone and West; both are deeply conflicted, divisive performers, whose brilliance is oftentimes overshadowed by their erratic personal behavior.
In its tenor, "Famous" is much different than the sample he used for Yeezus' "Blood on the Tracks," which transformed Simone's political despair into West's personal apocalypse. But it's not quite akin to "Get By" either. There's bravado, but there's a bitterness that underlines his taunts, and the Simone sample, which appears in full at the coda, provides a fragile counterpoint to the track's bluster. The Simone song Kanye samples for "Famous" is her 1968 track, "Do What You Gotta Do." It masks its melancholy in the uplift of the chorus, but the emotional wreckage is devastatingly familiar when a spurned Simone tells her lover, "Come on back and see me when you can/ Just do what you gotta do."
How he uses the sample resembles in many way the coda of "New Slaves." It's a key track from Yeezus and is built from the future shock of jagged synth stabs and industrial arpeggios. But, in the final 20 seconds, the clank and clamor quickly recede, revealing a ghostly, cracking organ swell from the 1969 Omega track "Gyöngyhajú Lány." Frank Ocean's strained voice soars above the sample in what seems like a very self-conscious nod to classic soul music. Once again, West is pointing to the past, but now it's used to signify an era that is quickly receding, and a set of ideals that has been forever lost.
Image courtesy of
admin
| Third Bridge Creative